William's nephew and his wife came to visit us for four full days last week. It gave us a chance to go places and try activities that we hadn't gotten around to without the extra motivation of having company. Their visit ended up being a "staycation" for us. When they left, it felt like coming home from a real vacation.
On the first day, we had lunch at Ikea and spent a couple of hours going through the store. Then we went to "Speed Raceway", an electric go-cart raceway. Unlike a standard go-cart track, these cars go 40 mph and require more from the driver than simply holding down the gas. The cars are really powerful compared to a standard go cart and it felt a little dangerous. It isn't really possible to pass another car and they determine the winner by the fastest single lap, so it isn't really a race. But they didn't really space the cars out enough to give everyone a chance to max out their speed.
For supper we went to The Melting Pot in Louisville. William's nephew has been visiting us since 1998 and a trip to The Melting Pot has been a tradition since 2003.
The next day we went downtown and painted at Canvas and Cocktails. We had a lot of fun painting. The instructor was good and gave step by step instructions for how to layout the elements in the painting and how to mix and apply the paints. It was pretty low stress and we liked the picture they had picked for the day. Here are our final canvases: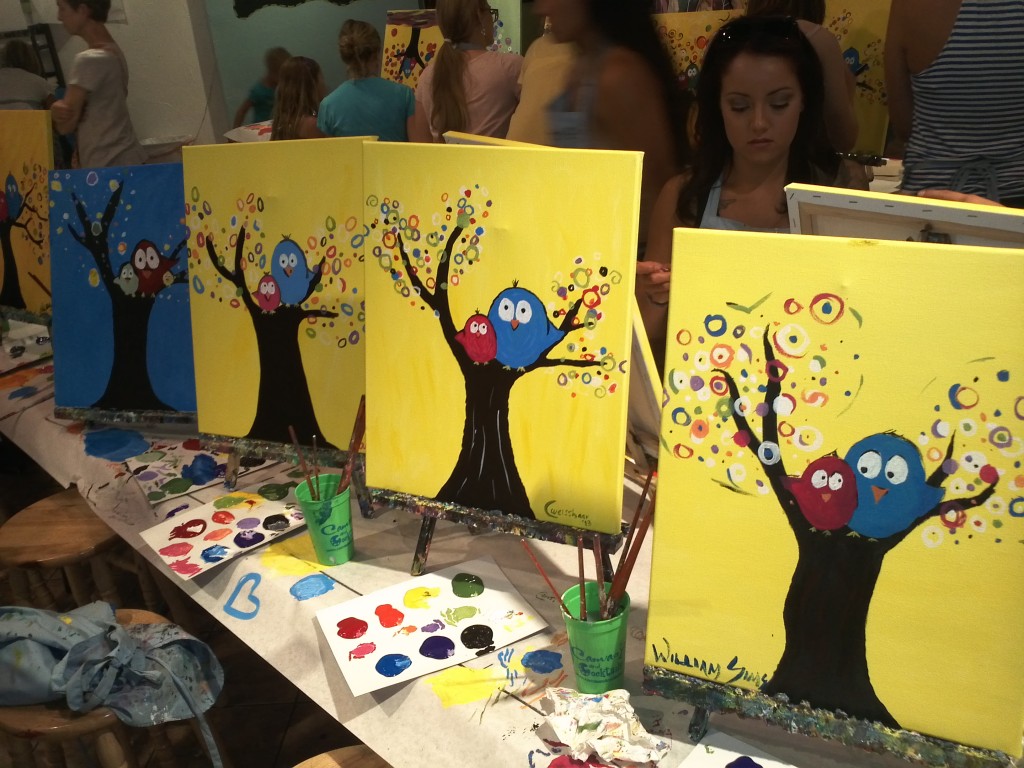 They played music and served drinks and everyone was having a good time. There was even a bit of dancing. The guy/girl ratio was pretty skewed toward the girls and they even have a "men paint free" night.
Afterward we walked over to "The Wizard's Chest", a game and costume store. I got a tiny hat: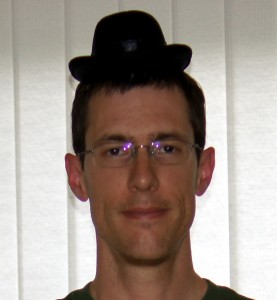 We had a late lunch at the "Mercury Cafe", a health/local food restaurant, and then went to "The 1-Up Bar" where we played some old video games, skee-ball, and jumbo Jenga.
The third day we went to the Denver Aquarium. It is pretty nice and we saw some weird fish:
But we were a bit disappointed with the otter display: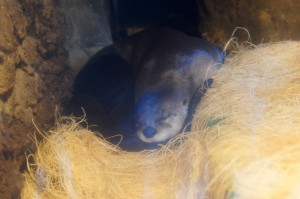 After the Aquarium, we went to Domo for dinner. We were finally able to eat outside in their garden, and the food was excellent.
On the last day, we went to Water World. We came home and planned to take a one hour nap. That turned into a three hour nap and we still slept well that night. It is amazing what sun and water can do, especially when you aren't used to it.
We also got to play several games: We played Hansa Teutonica on the touch table twice. We played Brass once and Flash Point twice.