After a couple weeks back in Colorado following the Arkansas and Dakotas trip, we left again for a two month trip through Yellowstone, the Tetons, Idaho, Glacier, Cascades, Olympic, Vancouver Island, Rainier and Lassen.
And here are a couple maps showing our route and where we were each day: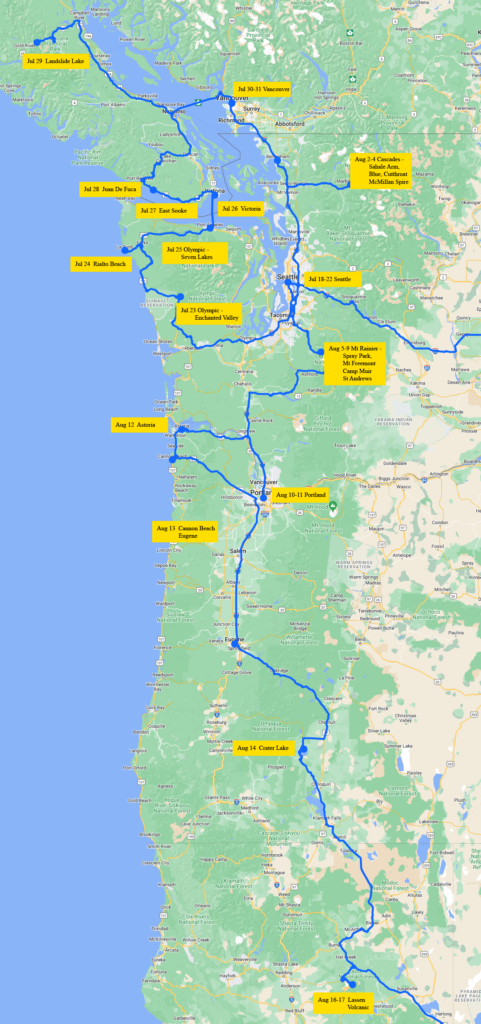 Tetons and Yellowstone
Our first destination was the Tetons. There was flooding in Yellowstone and we were waiting for the park to re-open. We did a couple hikes on the east side the first day, then rode the Aston-Tetonia rails-to-trails and hiked up Mt Fred the second day. Once Yellowstone opened, we spent a day there. We stopped at the upper and lower geyser basins, West Thumb, and the Yellowstone river. We were very impressed with the Yellowstone river canyon and loved "Artist's point".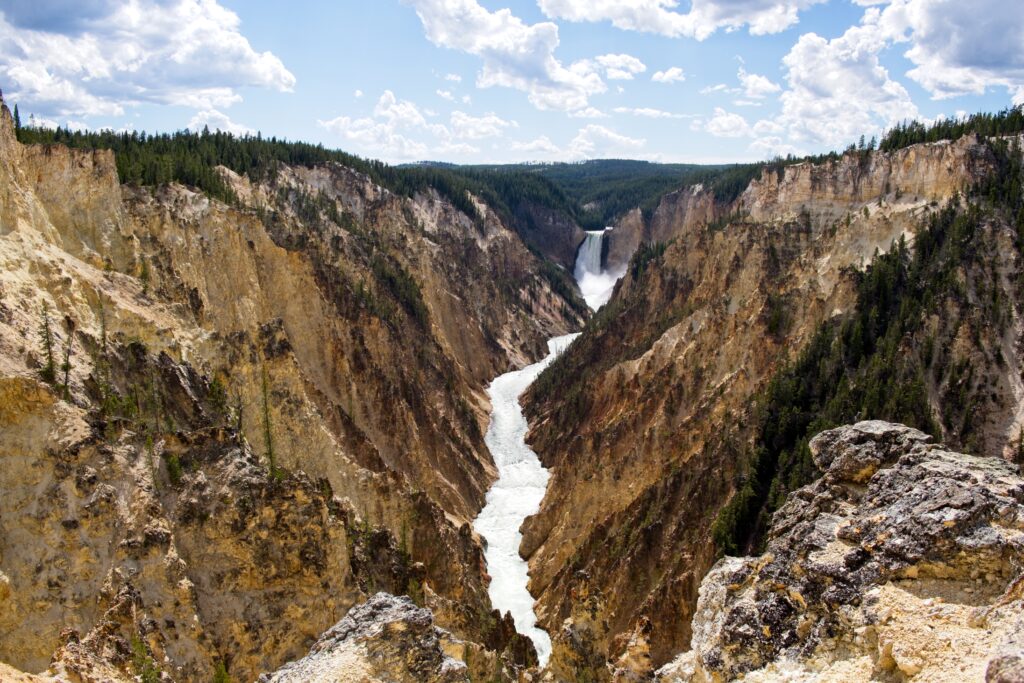 After Yellowstone we did a bike ride along the Warm River in Idaho and headed north. Kira spent a day hiking Refrigerator canyon near Helena while I worked.
Glacier
We spent four days in Glacier National Park. The first two days were at the north east entrance doing Grinnell and Iceberg lake. We weren't able to do all of Grinnell due to snow closure, but both hikes were very nice. The next day was at the St Mary entrance on the south east. Kira hiked Pitamakan and then we both hiked Scenic. The "Scenic point" that the scenic hike is named for was nothing special, but we did get to see mountain goats and some cool stunted trees.
Our final day in Glacier was my favorite. We hiked the trail of the cedars and then biked up "Going-to-the-sun" road. The road was closed at the top and cars weren't allowed above the Avalanche parking lot. So we had the road to ourselves and rode up about 12 miles to the closure. It was very pretty with glaciers and waterfalls.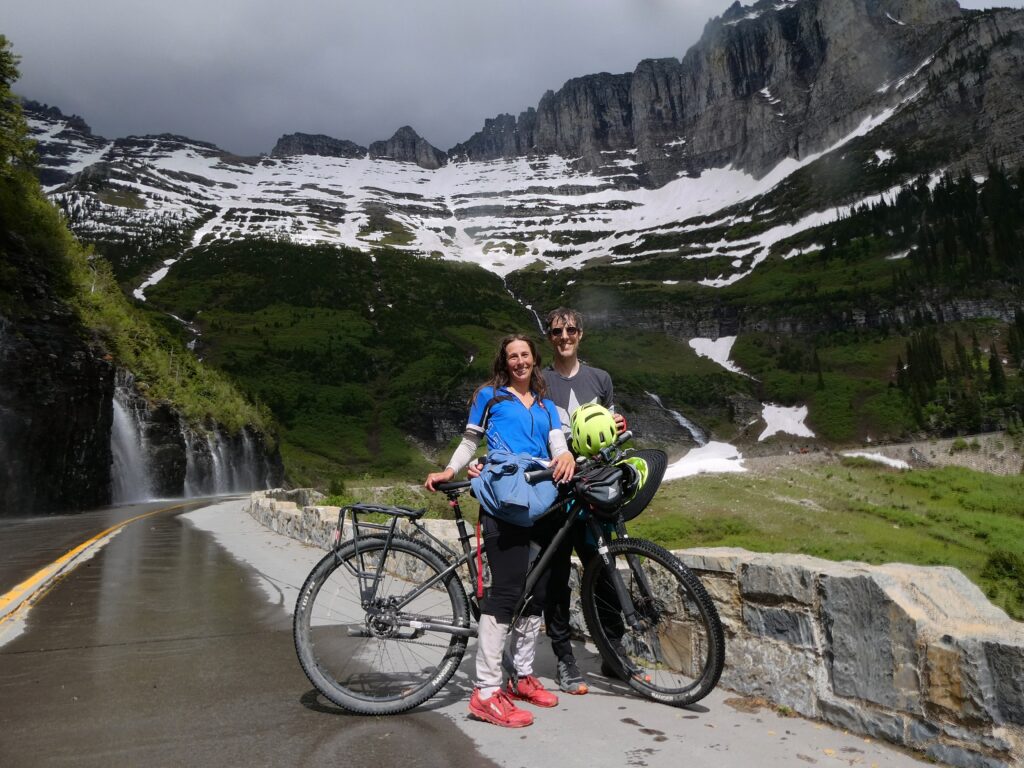 Idaho Hot Springs Tour
The next week was our big bike tour of this trip. We did the north section of the Idaho Hot Springs Tour. We were out for six days – camping all but one night when we stayed at a Warm Showers in McCall. We saw many hot springs and got into a few of them.
This tour was easier than the Arkansas high country tour we did in May. The climbs were less steep, we didn't do any single-track, and it was not nearly as hot. We also didn't have to deal with as many ticks. In general the mosquitoes were better too, but one night camping we did have to deal with mosquitoes that were so thick that there was an audible buzzing when sitting in the tent.
Our bike tour ended near Lowman and I dropped Kira off at the Granjean campground. She hiked from there across a pass overlooking Sawtooth lake and met me on the other side at Iron Creek campground. She really enjoyed this hike and the photos look great: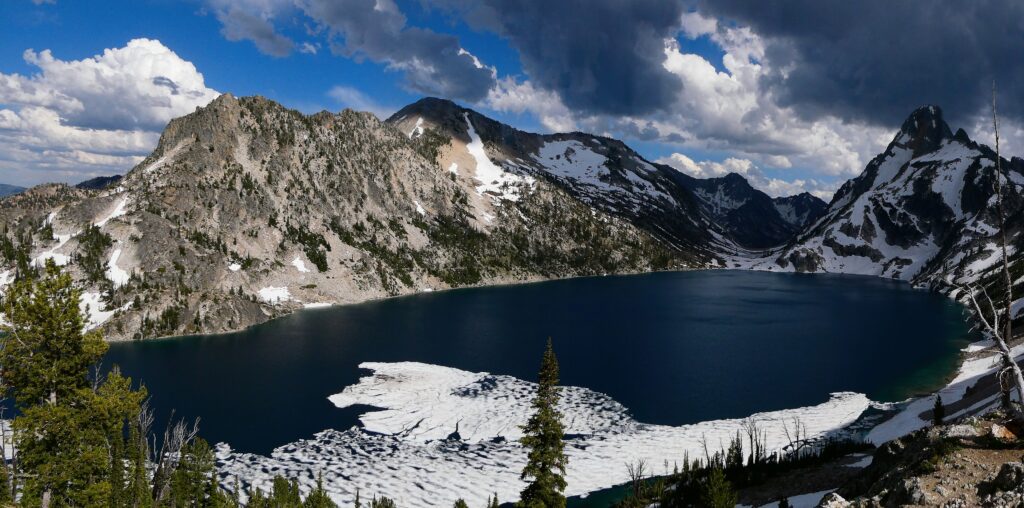 More Idaho
After the tour, we spent another week in Idaho. We hiked at Redfish lake, took a few days off to work and recover, hiked the Tincup loop in the Sawtooth mountains, kayaked and biked along the Salmon river, and climbed Trapper peak.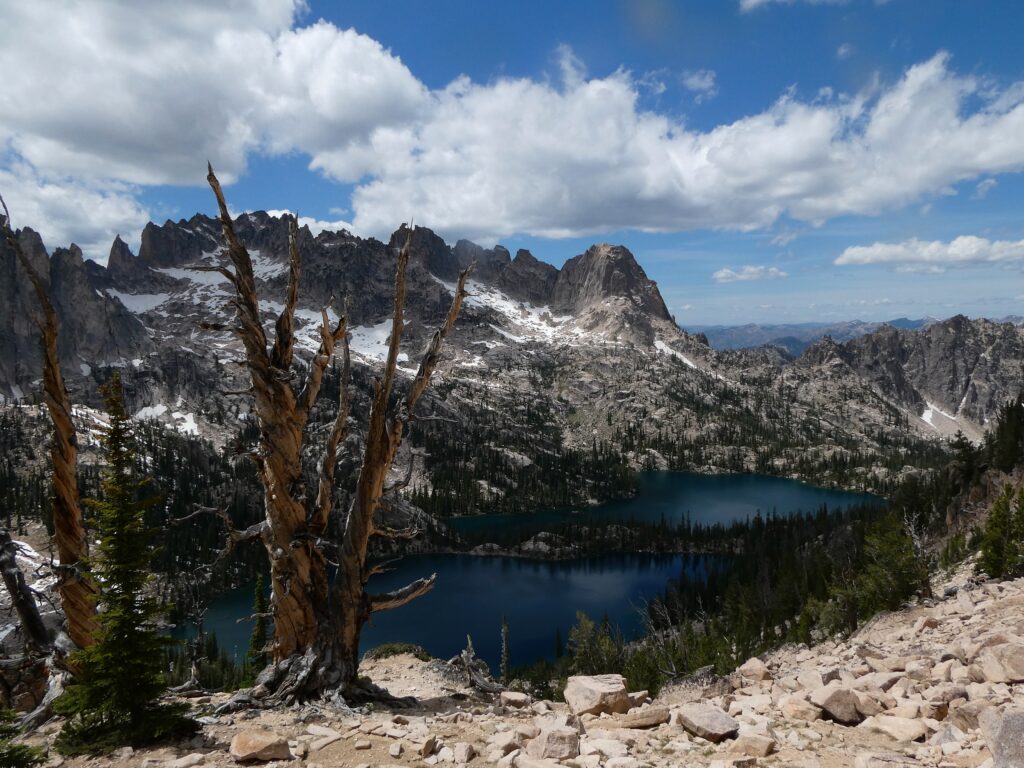 The Sawtooth mountains are very pretty, especially right around Stanley. The Redfish lake and Tincup hikes were both very nice. Kayaking on the Salmon river was a bit underwhelming after the Buffalo in Arkansas, but it still had some nice scenery.
Seattle and Olympic
We left Idaho and headed west for Seattle. We spent several days in Seattle working and seeing some sites. We biked around downtown, visited a science museum and spent some time in Chinatown. Parking was a pain and it was nice when we could park somewhere and bike instead of drive.
After Seattle we went to Olympic National Park. We started with the Enchanted Valley hike. I'd planned to only do part of this hike, but we met a couple other hikers who said that the destination was really special. So I did the whole thing and had my first marathon length day. In the end I enjoyed the rainforesty middle of the hike more than the scenery at the enchanted valley. The next day we hiked near Rialto beach which had some nice tide pools and rocky islands.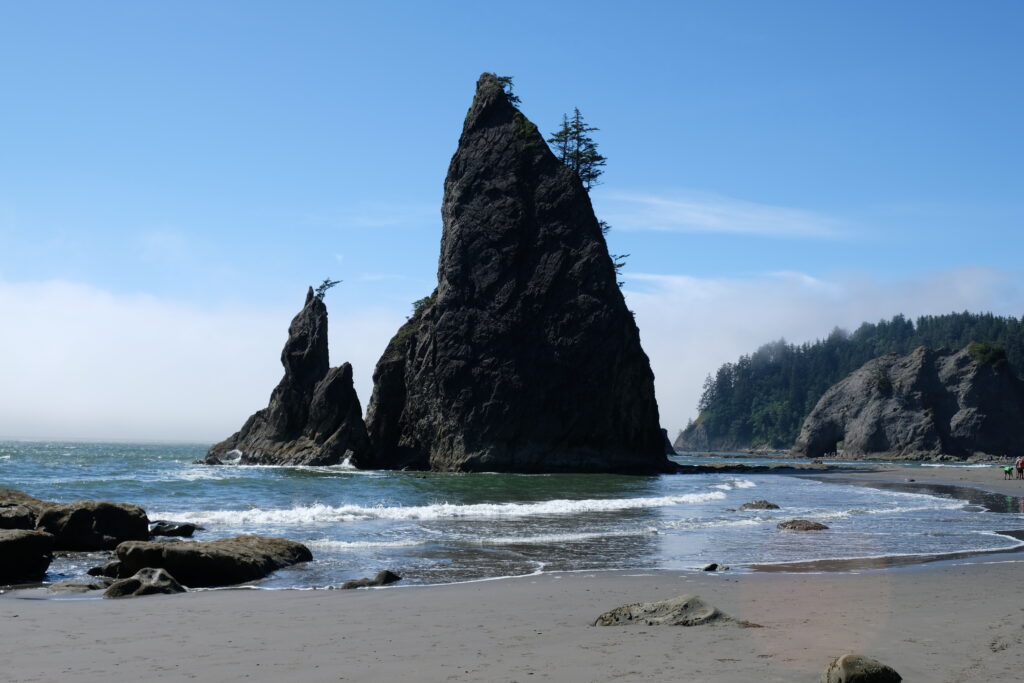 Our last day in Olympic was the Seven Lakes hike. This was a "five star" hike. We had good views of Mt Olympus and glaciers along with flower filled meadows and lakes.
Canada
At this point in the trip I stopped trying to work and started leave without pay. This was partly because I was low on PTO, and partly because I couldn't take my work laptop into Canada. From Olympic, we took the ferry over to Victoria. We both enjoyed Victoria. It is a nice city that doesn't feel too big and is very bike friendly.
After Victoria we did two costal hikes. One at East Sooke and another on the Juan de Fuca trail. Both were nice with good views of the coast and ocean. Juan de Fuca was a bit muddy for my taste, but it had a really nice forest section.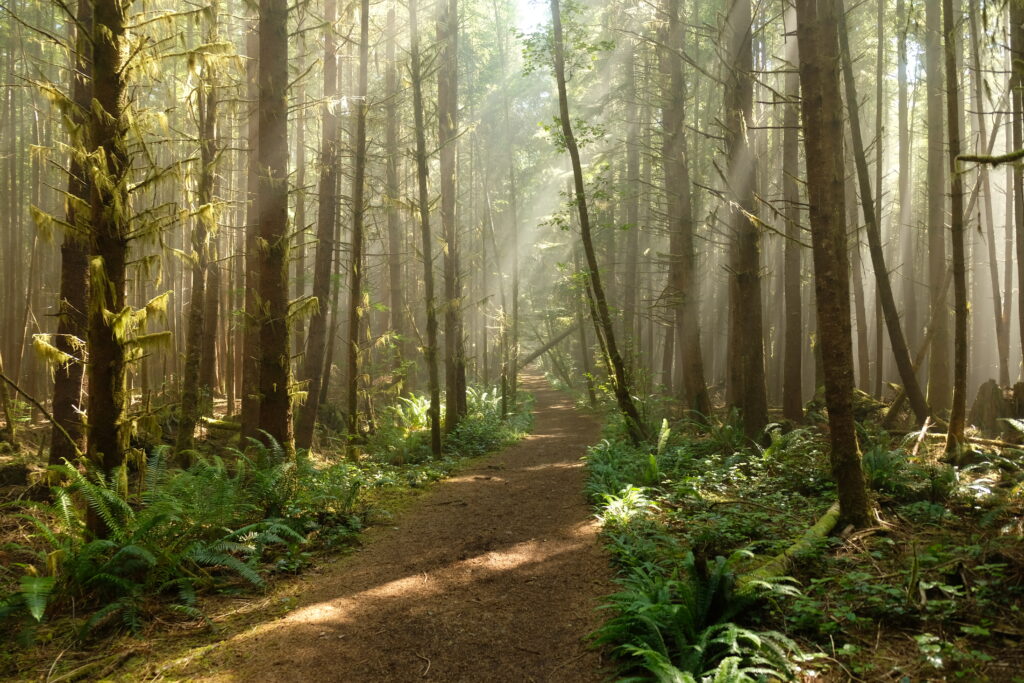 Finally we drove inland and did a hike at Landslide lake. The hike itself was just ok, but it was nice to see more of the island and see the different habitat/climate.
From there we took another ferry over to Vancouver. We spent several days in the city staying with a friend near the university. We did a lot of biking in Vancouver and saw Stanley park, Chinatown, several museums at the University and went to a BC day celebration.
Cascades
We drove from Vancouver through Seattle (where we saw the Asian Art museum) to the Cascades and spent three days hiking in different areas of the park. The first day we did the Sahale Arm hike. This was another "five star" hike. Great scenery, glaciers, lakes and flowers. We also saw goats and a bear. This was my first time to see a bear on a hike, and we were maybe a little too close, but the bear was taking a break in some snow and was pretty uninterested in us.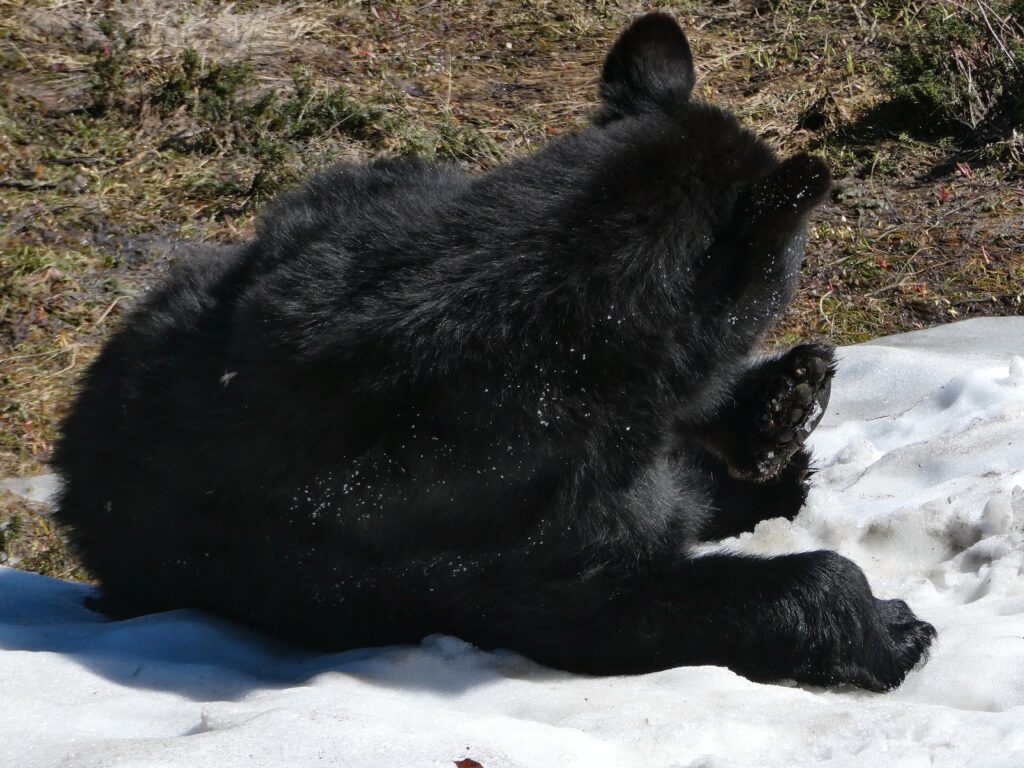 The next day we hiked Cutthroat pass and Blue lake which were just ok. On our final day, a storm front moved in. We'd planned to hike McMillan Spire. This is a less popular hike and is mostly used by climbers. We made it about 2/3 of the way before giving up due to the wet conditions, very steep terrain, and the clouds obscuring our views. We ended up pretty wet, but we did collect some wild huckleberries.
Mt Rainier
We spent four days at Mt Rainier, exploring the mountain from four sides. The first day was Spray Park. The scenery was spectacular with great views of Mt Rainier along with lots and lots of flowers. We went a bit off trail and climbed up a glacier near Observation and Echo rocks. We'd been looking for water and found some at the bottom of the glacier. We also found cell reception and sent people updates with a photo of Mt Rainier.
The second day was Mt Freemont lookout. This hike was good, but not really special. That night we camped at Reflection lake and got up near sunrise to take some photos of the reflection of Mt Rainier. While we were there a deer came by and we got a great shot of the deer and reflection: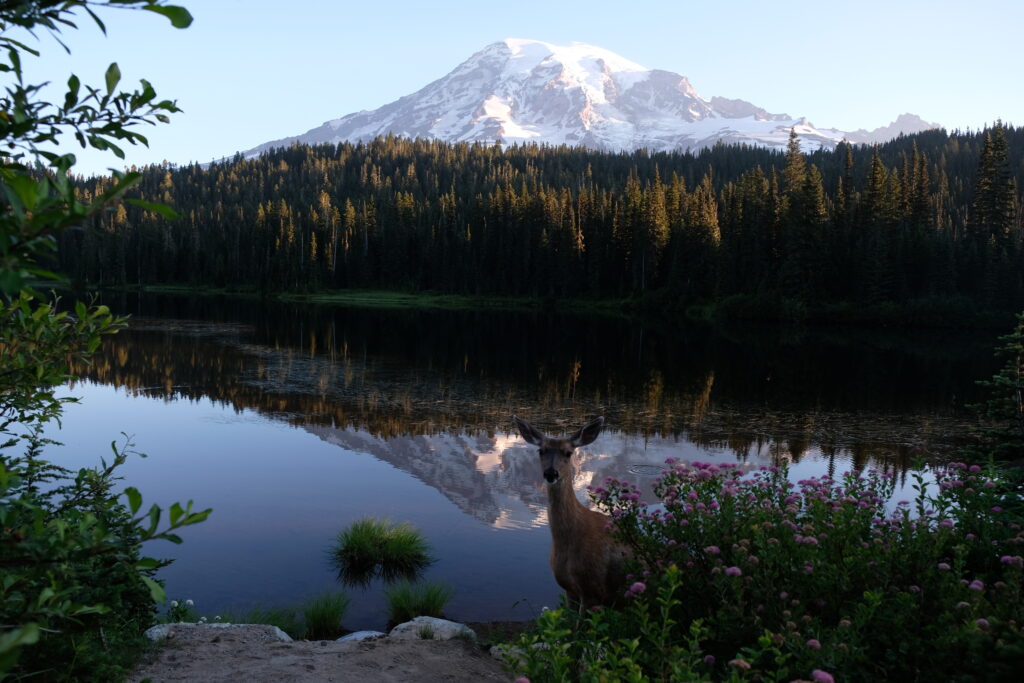 The rest of that day was another spectacular hike. We climbed Mt Rainier as far as possible without rope. This includes maybe a mile of climbing on a glacier (and then sliding back down). We also hiked the Skyline trail which was a very pretty meadow with little rivers and waterfalls. The Skyline trail hike was probably the best hike for the least effort of all the things we did on the trip.
Our final day at Rainier was a bike/hike combination up the Puyallup and over to St Andrews and Aurora lake. This was a nice hike that included some very interesting rock formations and pretty lakes. Unfortunately, the mosquitoes were very aggressive at the lakes and we couldn't really relax and enjoy our time there.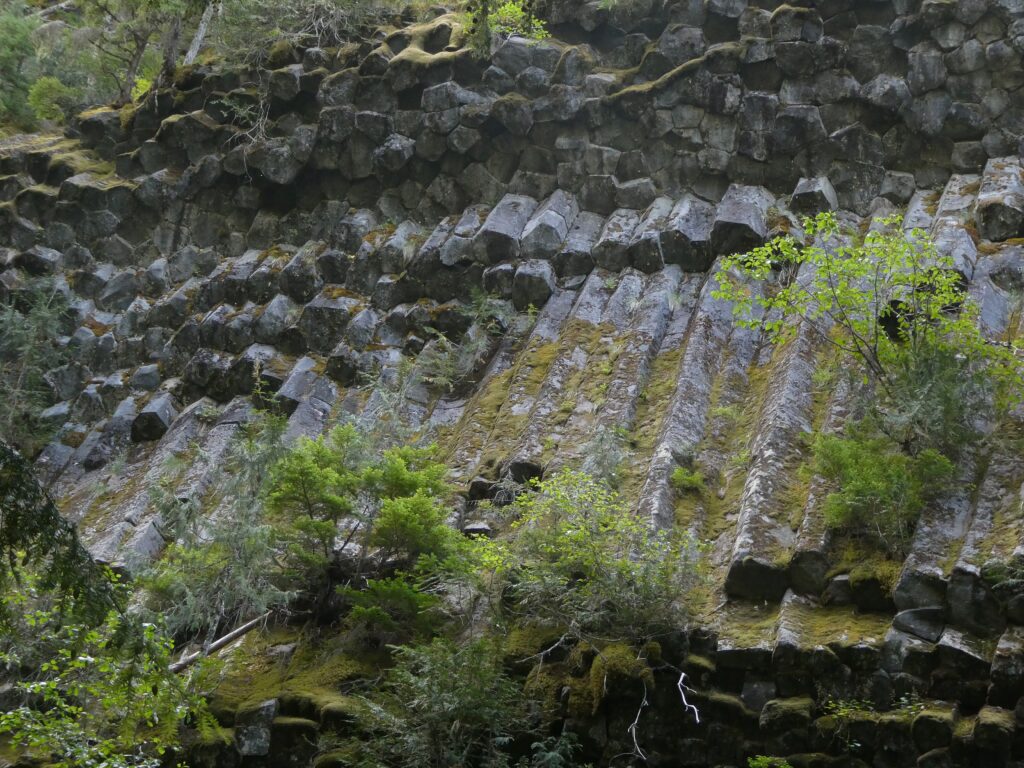 Oregon
After Mt Rainier, we stayed a couple days in Portland visiting my aunt and cousin. We did a bike ride in the city and searched Chinatown for a sesame ball. We then checked out Astoria, Cannon Beach and Eugene. At Cannon Beach we got to see puffins nesting and some nice tide pools.
On our way south out of Oregon, we stopped at Crater of the Moon.
Lassen Volcanic
We spent two days at Lassen and hiked Cinder cone (which is a very conical dormant volcano) and Lassen peak. At the end we spent some time at Bumpass Hell which is an active hydrothermal area with sulfur mud pits, steam vents, and yellow/red rock.
Summary
I really enjoyed this trip. We saw a lot of spectacular scenery, stayed in shape, and travelled cheaply.
For the first month, I was working three days a week (except for the bike tour week) and we spent a lot of mental effort planning for those days, getting to motels, and doing the actual working. It also left Kira with the task of doing most all the trip planning. Once I started the leave without pay, the trip got easier and more fun. We didn't spend as much time sitting in hotels, and I was a lot more relaxed.
We saw a lot of great things and it is hard to pick favorites when comparing such different scenery and experiences. But some of my highlights were:
Barron Lake in the Sawtooth mountains
Going to the Sun road in Glacier
Sahale Arm in the Cascades
Spray park and Muir camp at Mt Rainier
It was good to have the bikes along even though we were primarily hiking. Of course we needed them to do the Idaho hot springs tour and we did a few day rides. But they were also useful in the cities to avoid driving and parking downtown. And we used them a couple times to bike to a trailhead when the road was closed to cars.
Excluding losing money by not working for a month, going on the trip was cheaper than staying at my apartment. We spent less on hotels and gas than we would have on rent and utilities.
All in all a great experience and something that I'd like to do again someday.